Written by Staff Writer-Blog Events Now
"DC Metropolitan, the hub of creativity."
When creativity is not given an outlet to shine, it gets trampled upon. 202Creates is a platform for all creators to share their creativity. This is a month to share creative creations with your community; people who will appreciate it. DC has a track record of being a creativity hub.
Washington, DC is a city that provides many advantages. It provides access to museums and other cultural institutions. Even while creative expression can happen anywhere, DC as a creative city has several advantages. It serves as a magnet for all creative types while encouraging a virtuous cycle of creative thought. Overall, D.C. is a perfect location for artists because of its creative inspirational features and also as a historically travel destination.
One of the many creativity- events in DC to attend and participate in is hosted by 202Creates. Their events for the creative community has been in existence since September 2016. Ever since then, it has been a better version yearly. Their highly and anticipated Creative Month-Kickoff at District Pier at the Wharf 2022 brought to you by Mayor Muriel Bowser, it is promised to be better than the previous. It is planned to be a citywide event to celebrate and highlight the District's dynamic creative economy and community.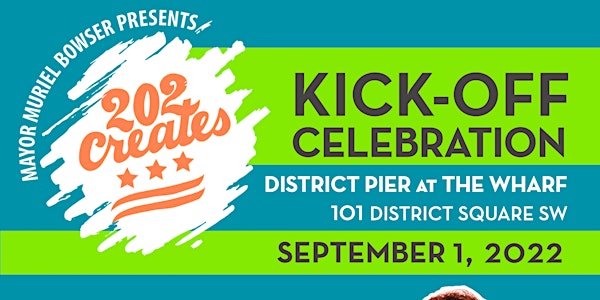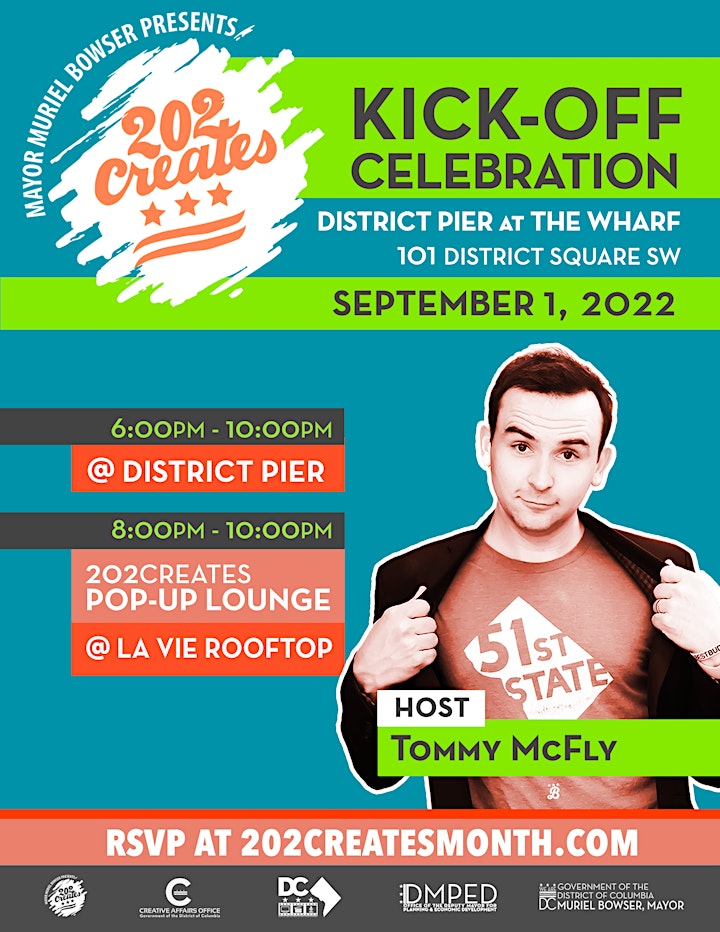 The celebration encompasses DC's creative community, from chefs to hairstylists to designers to filmmakers to tech startup founders to visual artists and production service providers. This month-long program features a wide variety of activities in each of the District's eight neighborhoods, showcasing and engaging the District's entrepreneurial and creative population. 202Creates is a joint initiative between the DC Office of Cable Television, Film, Music & Entertainment (OCTFME) and the DC Office of the Deputy Mayor for Planning & Economic Development (DMPED).
With an array of talent and performers. The 202 Creates Kickoff is set to be an evening of stars and creatives.
The 2022 edition officially starts on Sept 1st from 6pm-10pm. Mayor Bowser and the 202Creates family at the Wharf DC would love to host you for free. All you have to do is make your reservation quickly at 202CreatesMonth.com
The September 1st event will be held at La Vie Rooftop at District Wharf (TBD), 88 District Square SW 5th floor, Washington, DC 20024. The time is 6 pm to 10 pm and also at District Pier at The Wharf (TBD), 101 District Square SW, Washington, DC 20024 from 6 pm to 10 pm.
Come and support and show love for the greatest city in the world for creators & entrepreneurs. 
To register visit-http://202createsmonth.com/DCNow
Follow 202 Creates on Instagram here- https://www.instagram.com/202creates/